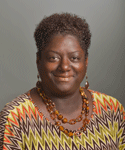 Theresa Fuqua is a native Nashvillian and a 1987 graduate from Maplewood High School.  She received a Bachelor of Science Degree in Criminal Justice from Tennessee State University in 1996.  She received a Master of Science Degree in Public Service Management from Cumberland University in 2003.  She has worked in the Metropolitan Government for 17 years as a Pre-Trial Officer and as an Electronic Monitoring Officer in the Probation Department. Currently she is working in the specialized Division of Davidson Country Recovery Court as a Probation Officer/Case Manager. She is currently enrolled in the Drug and Alcohol program pursing the LADAC certification for Drug & Alcohol Counseling and Treatment.
Theresa is also an active chartered member of the Faith United Missionary Baptist Church.  She is a volunteer with the Vacation Bible School, Community Impact Day and helps in the food services programs at her church.
Further, Theresa volunteers with the American Heart Association Annual Gala Event.  She has worked in helping with children at Martha O'Bryan RAP tutoring program and Youth Encouragement Services program.  Theresa has been a guest speaker at the Military (VA) Action Meeting for the Community.
Theresa is not only a probation officer; she has passion for helping and serving the underserved population of Davidson County who are addicted to drugs and alcohol.