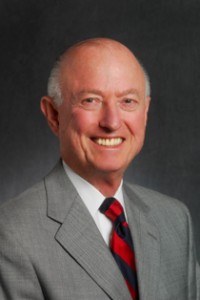 Address: Justice A.A. Birch Building, 408 2nd Avenue North, Suite 3130, P.O. Box 196300 Nashville, Tennessee 37219
Administrative Assistant: Grace Gao
Phone: (615) 862-8313
Fax: (615) 862-8308
Judge's Biography
Judge Wm. E. (Bill) Higgins is a graduate of Cohn High School, Vanderbilt University and the Nashville School of Law. After Vanderbilt, Judge Higgins served two years active duty in the U.S. Army and rose to the rank of Captain by the time of his honorable discharge. Thereafter he practiced law for 13 years and was elected to three terms as a councilman in the 24th District in West Nashville. In 1980 he won a contested election for the Judgeship of General Sessions Court, Division VII and has since been re-elected, without opposition, five times.
Currently, Judge Higgins is an active volunteer with community organizations and a member of the Nashville City Civitan Club, American Legion Post 5, the NAACP, the West Nashville Masonic Lodge and Al Menah Shrine and several Bar Associations. He is a member of the Church of Christ.
He is married to the former Janice Livingston, and they have three adult children and seven grandchildren.  Judge Higgins' son, Jim, is an attorney in Nashville.