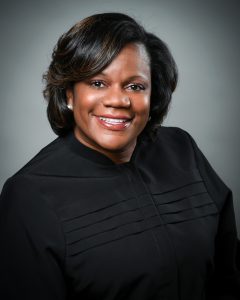 Address: Justice A.A. Birch Building, 408 2nd Avenue North, Suite 4140, P.O. Box 196300 Nashville, Tennessee 37219
Administrative Assistant: Margaret Easley
Phone: (615) 880-3694
Fax: (615) 880-3613
Allegra Montgomery Walker was elected to General Sessions Court, Div. IV August 2014. Before being elected, she served an Assistant District Attorney for the Davidson County District Attorneys General's Office. While serving in that capacity, she focused her practice on Domestic Violence. Upon her departure from the District Attorney's Office, Judge Walker was recognized by her peers for her work in domestic violence.
In addition to serving as a prosecutor, Judge Walker served as an Assistant Public Defender for the Davidson County Public Defender's Office.
Judge Walker earned a B.S. degree from Fisk University in 1993 and a J.D. degree from the University of Toledo in 1996.
Judge Walker has been active participant in the Nashville community for a number of years, However, she maintains membership in the Nashville Bar Association, the Napier Looby Bar Association, Lawyer's Association for Women, the General Alumni Association of Fisk University, the National Coalition of 100 Black Women, Women in Numbers, and Alpha Kappa Alpha Sorority, Inc.
Judge Walker is married with one child.