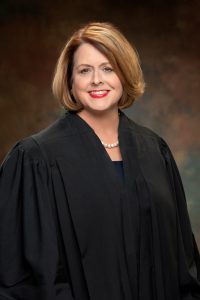 Address: Justice A.A. Birch Building, 408 2nd Avenue North, Suite 3140, P.O. Box 196300 Nashville, Tennessee 37219
Administrative Assistant: Katie Torrence
Phone: (615) 880-3360
Fax: (615) 862-8329
Judge's Biography
Melissa Blackburn was elected to serve as Judge of the Division II General Sessions Court on August 7, 2014.
A Nashville native, Judge Blackburn is a graduate of David Lipscomb High School and Lipscomb University, she attended the Nashville School of Law to earn her law degree. Following graduation, she decided to practice law in the General Sessions courts across Tennessee and extensively in Nashville.
Prior to her election, the focus of Judge Blackburn's practice was in the area of employment law, standing up for employees who face discrimination and unfair wage practices. Judge Blackburn has been a strong advocate for children, especially those who have suffered the horror of sexual abuse.
In addition to her duties in General Sessions Court, Judge Blackburn serves as presiding judge of the Mental Health and Veterans Courts. She works through the court program to provide assistance to the mentally challenged and works with Nashville's Veterans who have encountered legal difficulties resulting from trauma suffered in the service of the United States Military.
Among the civic leadership positions Melissa has held are:
Member of the Tennessee Bar Association
Member of the Nashville Bar Association
Past Board Member, Lawyers Association for Women
2005-2007 Chairman of the Downtown Nashville YMCA Board
Campaign Chairman for "We Build People"
Chair of the General Sessions Court Committee for Nashville Bar Association
Chair of the Small and Solo Section of TN Bar Association
Fellow of the Nashville Bar Foundation
Fellow of the American Inns of Court
Executive Director of the American Board of Trial Advocates, Tennessee Chapter
Member of "Women In Numbers"
Developed the "Women Build" Program for Habitat, annually bringing together a diverse group of women leaders to build a home for a deserving woman in Nashville.
Together Judge Blackburn and her husband, Nashville Attorney Gary Blackburn, have raised four children in our community. They are avid fans of the Nashville Predators and Tennessee Titans. In her spare time, she enjoys golf, spending time with Gary and doting on her dog, Abigail.