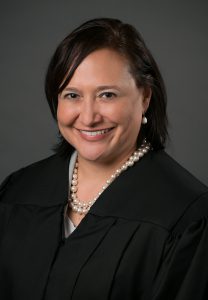 Address: Justice A.A. Birch Building, 408 2nd Avenue North, Suite 3110, P.O. Box 196300 Nashville, Tennessee 37219
Administrative Assistant: Grace Woolbright
Phone: (615) 880-3712
Fax: (615) 880-3713
Judge's Biography
Ana L. Escobar was elected to the General Sessions Court in August 2018. She was reelected in August 2022. She is one of three judges that hears civil orders of protections and domestic violence criminal cases eight months out of the year. Judge Escobar presides over a treatment court for human trafficking survivors and those at risk of sexual exploitation.
Judge Escobar was born in Colombia, South America and became a United States citizen when she was twelve years old. She and her family have lived in Nashville, Tennessee for over forty years. Judge Escobar earned her college degree from Vanderbilt University and graduated from The National Law Center at George Washington University with a Doctor in Jurisprudence. Prior to her election, Judge Escobar has practiced law since 1995 by serving as an assistant public defender, an assistant district attorney, solo practitioner, Metro Clerk, and Deputy Director of the Administrative Office of the Courts.
Judge Escobar has a passion for public service. She has served on many non-profit boards, government boards, and commissions. She has given her time to the Planning Commission, the Davidson County Election Commission, the Board of Equalization, and the State Judicial Nominating Commission. In 2012, she co-founded MyCity Academy, a leadership program that enables New American Nashvillians and neighborhood leaders to learn about Metro Government. She also co-founded the Nashville Hispanic Bar Association and the Wings Foundation TN.
Judge Escobar is honored to be serving the citizens of Davidson County.
Cherished Hearts Referral:
Cherished Hearts | General Sessions Court of Metropolitan Nashville & Davidson County