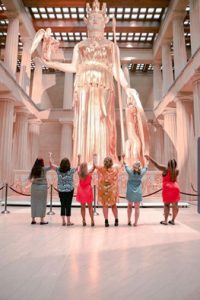 Cherished HEARTS
Judge Ana L Escobar Presiding
General Sessions Division III
100 James Robertson Parkway Suite 10
Nashville, Tennessee 37201
Cherished HEARTS is the Davidson County General Sessions Treatment Court for survivors of human trafficking who are currently involved in the criminal justice system.  The mission of the program is to allow justice involved survivors of human trafficking the opportunity to reduce the psychological harm of traditional court processes, connect with services and re-enter society in a self-sufficient manner.
Cherished HEARTS consists of a multi-disciplinary team including the Honorable Judge Ana Escobar as Presiding Judge and her staff, Metro Probation, Thistle Farms Residential (Magdalene), Mental Health Cooperative, Nashville Defenders, Office of the District Attorney, Tennessee Bureau of Investigation, Sexual Assault Center, Office of Family Safety and other service agencies. Grants provide funding for the program to rehabilitate and reintegrate individuals into the community.
Cherished HEARTS is a voluntary program that may take up to 24 months to complete.  There are five phases of the program.  Each phase addresses a different area in the participants life and recovery.  Participants are given the opportunity to attend treatment for substance use disorder, to connect with a trauma informed therapist, to meet with mental health providers, to live in supportive housing, and to re-enter the work force.  Participants are expected to attend court weekly but as they advance in the program, attendance requirements are lessened.
Cherished HEARTS accepts referrals from attorneys, judges, and probation officers.  If you would like to refer someone to the program, please click here.
If you would like to report possible human trafficking or if you are a survivor of human trafficking, please call the Human Trafficking Hotline 1-855-55-TNHTH.
Signs of Human Trafficking HERE
For Program Guidelines Click HERE
For Program Referral Click HERE
To learn more about human trafficking or to get help, please visit:
https://www.dhs.gov/blue-campaign
Program Guidelines:
Cherished HEARTS
Eligibility Guidelines
 Cherished HEARTS is the name of the General Sessions Human Trafficking Survivors Court in Davidson County,  Nashville, Tennessee. Cherished HEARTS utilizes an interdisciplinary approach to work with the participants to gain independent living skills and live a life in recovery. Screening includes a review of the potential participant's current offense, criminal history, and history of substance use involvement using the Ohio Risk Assessment System (ORAS) screen.
Cherished HEARTS program requirements
Currently or in the past was a victim of human trafficking.  Trafficking includes but not limited to:

Commit crimes or made to work through force, fraud or coercion by a 3rd party,
Controlled by a third party financially or for basic needs

Must be willing to

reside in a safe house
attend drug and alcohol treatment if needed
have a  mental health evaluation that may result in treatment, trauma informed counseling and medication
Some qualifying indicators for Cherished HEARTS may include:
Defendant has a history of prostitution
Defendant does not have a safe or steady place to live
Defendant may have been a victim in a number of crimes
Defendant may have a history of sexual trauma
Some Disqualifying indicators for Cherished HEARTS may include:
Candidate must have all charges and holds in other counties or jurisdictions cleared prior to scheduling the initial screen.
Candidates with violent criminal history will be reviewed individually for program suitability.
Cherished HEARTS does not accept confirmed gang members.
Cherished HEARTS does not accept sex offenders.
All candidates will be assessed for program fitness prior to acceptance
*All potential participants will be reviewed on a case by case basis for the Cherished HEARTS Program
Cherished HEARTS
Referral Form
Attorney Name:
Attorney Phone Number:
Attorney Email:
Client Name:
Client DOB:
Client Housing Location:
Case Number(s):
Next Court Date and Location:
Home Address:
Phone Number: