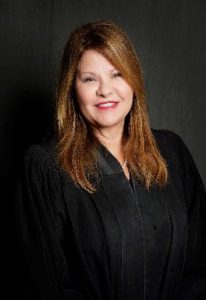 Address: Justice A.A. Birch Building, 408 2nd Avenue North, Suite 4110, P.O. Box 196300 Nashville, Tennessee 37219
Administrative Assistant: Nikki Harris
Phone: (615) 880-3672
Fax: (615) 880-3674
General Sessions Court Division IX – Attorney Representation Standards – Click Here
Judge's Biography
Judge Lynda Jones was elected to the bench on August 7, 2014. She was the Presiding Judge of Davidson County General Sessions Court from September 1, 2019 – September 1, 2020. She practiced law in middle Tennessee for 22 years prior to becoming a judge. She is a Chair of the General Sessions Court Committee for Nashville Bar Association and Fellow of the Nashville Bar Foundation. She was nominated and selected by her peers to serve on the Executive Committee for the Tennessee General Sessions Judges Conference as President for 2020-2021.
Judge Jones has been heavily involved in the Nashville Community after serving on the boards of several organizations while also active in her church. She is the Chairman of the Board of Dismas House which helps to improve lives and communities by providing the formerly incarcerated with a holistic reentry program and a member of the Nashville's Behavioral Health and Wellness Advisory Council which strives for a safe, stable and nurturing community for all, with a behavioral health system that supports recovery and resilience by ensuring access to comprehensive and affordable care. Judge Jones is the Presiding Judge over the Nashville Homelessness Court.
She has also won several awards such as the 2021 Nashville Cable Spirit of Leadership Award, 2015 Nashville Business Journal Women of Influence, Public Policy Award, 2014 Athena Nominee, 2014 NAWBO Woman of the Year Award, 2013 Athena Nominee, 2013 Mid-South Super Lawyer, and the 2011 NAMI Mental Health Advocacy Award. Lynda is widowed and has one child. She served as a former troop leader and mentor to women in the community.
Judge Jones has become active nationally serving as the District 6 Director of NAWJ (National Association of Women Judges) in the areas of Independent Judiciary and issues impacting incarcerated women. She serves on the Education Committee for the AJA (American Judges Association).