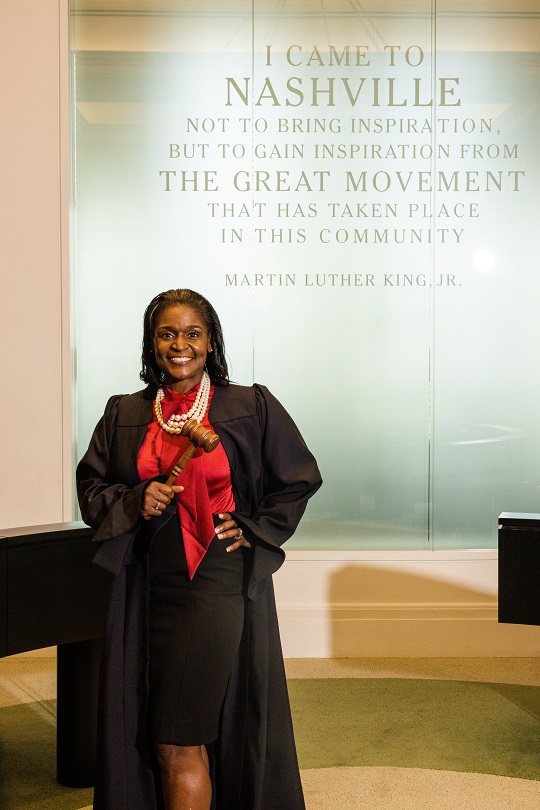 Address: Justice A.A. Birch Building, 408 2nd Avenue North, Suite 4150, P.O. Box 196300 Nashville, Tennessee 37219
Administrative Assistant: Grace Gao
Phone: (615) 862-8326
Fax: (615) 862-8350
Judge's Biography
Judge Robin Kimbrough Hayes grew up in a trailer park in Lexington, Kentucky as latchkey child. Determined to get out of the trailer park, she focused on her education. She would attend Fisk University, where she pledged Delta Sigma Theta Sorority, Alpha Beta Chapter, served as Student Government Association President, and graduated with Phi Beta Kappa honors. Judge Hayes' desire to serve took her to Emory School of Law where she received the school's Public Service Award.
Upon graduation. She returned to Nashville to serve as Assistant Attorney General in Tennessee Attorney General Office in the Criminal Justice Division. She wrote and argued criminal appellate briefs on issues having an impact on sentencing and evidentiary matters. She would later receive an appointment as an Associate General Counsel for the Tennessee Department of Children's Services. In this role, Judge Hayes litigated dependency neglect cases and made a difference in the lives of families and children. After practicing with the Department of Children's Services, Judge Hayes stayed at home with her two children, and returned to the practice of law as the Legal Counsel for the Tennessee Coalition to End Domestic and Sexual Violence. As Legal Counsel, Judge Hayes influenced, wrote, and trained on legislation having an impact on Tennessee's domestic and sexual violence laws.
Besides being a legal professional, she is a graduate of Vanderbilt Divinity School, and is an ordained Elder in the United Methodist Church. She pastored for twenty years in two rural churches, and served as the Chaplain and Special Advisor to the President on United Methodist Affairs at Meharry Medical College. At Meharry, Judge Hayes organized and coordinated the first spiritual care class at the Dr. Lloyd Elam Center for persons struggling with drug and alcohol dependency. Embedded in all of these professional accomplishments is that she worked three jobs as an attorney, pastor, and chaplain to raise her two children as a single mother. Judge Hayes cares about family and community.
Judge Hayes received the Napier-Looby Bar Association A.A. Birch Service Award and the Nashville Coalition Against Domestic Violence Advocate of the Year. The NAACP Nashville Branch nominated Judge Hayes for the Athena Award. Judge Hayes has used her legal career to to advance social justice for all in our communities. She is a member in the following organizations: Nashville Branch of the NAACP (National Association for the Advancement of Colored People); NOAH (Nashville Organized for Change and Hope); Nashville Alumnae Chapter of Delta Sigma Theta Sorority, Inc.; Interdenominational Ministers Fellowship; Top Ladies of Distinction, Nashville Capitol City Chapter; Les Gemmes, Hendersonville Chapter; Fisk University Alumni Association; Nashville Bar Association; Lawyers Association of Women; Napier-Looby Bar Association; Old Hickory Chamber of Commerce; Women in Numbers; Democratic Davidson County Women, and the Civitan Club. Additionally, she is the former President of the National Panhellenic Council of Nashville and Nashville Coalition Against Domestic Violence.
Judge Hayes has two self-published books, Be Encouraged: 100 Messages of Hope and Healing and Exercise Your Faith: A 21-Day Journey to Physical and Spiritual Fitness. She also wrote the adult curriculum for the United Methodist Church Publishing House and a weekly meditation for the Nashville Pride.
On a personal note, Judge Hayes enjoys karaoke, volunteering, and social justice work. She is recently married to Arnold Hayes, and together they have five children.