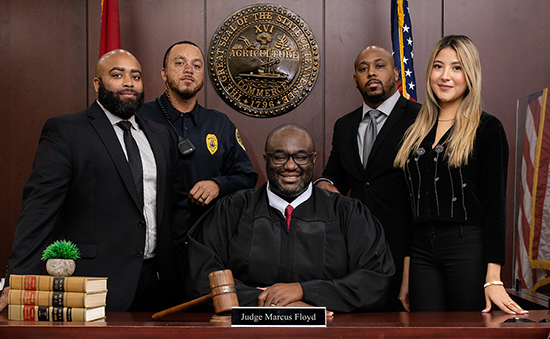 Address: Justice A.A. Birch Building, 408 2nd Avenue North, Suite 3130, P.O. Box 196300 Nashville, Tennessee 37219
Administrative Assistant: Andrea Chavez Gloria
Phone: (615) 862-8313
Fax: (615) 862-8308
Judge's Biography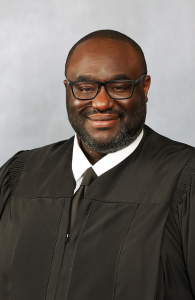 Judge Floyd grew up in the Mississippi Delta and moved to Nashville the summer before his freshman year of high school. He is a graduate of Hillsboro High School. Judge Floyd attended Nashville State Technical College and earned a B.S. in Criminal Justice Administration from Middle Tennessee State University. He earned his J.D. from Belmont University College of Law.
Prior to being elected, Judge Floyd spent his entire career in public service. He has served as a Probation Officer, Judicial Law Clerk, Prosecutor, Mayoral Policy Advisor, and Public Defender. Before beginning law school, Judge Floyd served as a Probation Officer in Davidson and Shelby County. Judge Floyd began his legal career as a judicial law clerk for the Williamson County Trial Courts. He went on to serve as an assistant district attorney, where he managed thousands of misdemeanor and felony cases in Davidson County General Sessions and Criminal Court. Judge Floyd was also a founding member of the Davidson County District Attorney Office's Conviction Review Unit, established to investigate, review and overturn wrongful convictions. During his time as Senior Criminal Justice Policy Advisor to the Mayor, Judge Floyd guided the Community Oversight Board from a ballot initiative to a government agency.
Judge Floyd is a proud member of the Napier-Looby Bar Association, NAACP, Nashville Bar Association, and Lawyers Association for Women-Marion Griffin Chapter. He is also a Board Member for Hands on Nashville.
Judge Floyd and his wife, Mandy, have been together since Hillsboro High School. They have three children and a rambunctious black Labrador Retriever, Moonlight.