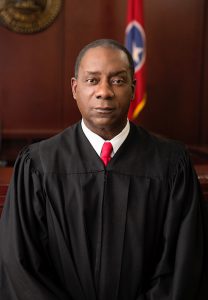 Address: Justice A.A. Birch Building,
408 2nd Avenue North, Suite 4100
Nashville, Tennessee 37219
Administrative Assistant: Vanessa Trotter
Phone: (615) 862-5572
Fax: (615) 862-8305
Judge's Biography
Judge Sam Coleman was appointed to General Session Court, Division 10 on May 16, 2017. Before becoming Judge, he was a practicing attorney specializing in criminal, civil, probate, landlord & tenant law. He served as Metro Council Member for the citizens of Nashville, Davidson County District 32 from 2003 to 2011 and District 33 from 2015 until becoming Judge in 2017. Judge Coleman retired from State Government with 32 years of outstanding service, and has been cited as one of Nashville's strong community leaders. He worked as an Administrator for the Department of Children's Services.
Judge Coleman graduated from Tennessee State University with a Political Science & Master of Public Administration Degree in 1982. He attended the Nashville School of Law receiving his Doctor of Jurisprudence in 1989.
Judge Coleman is a member of the American Bar Association, Nashville Bar Association, Napier Looby Bar Association, and National Association of Criminal Defense Lawyers.