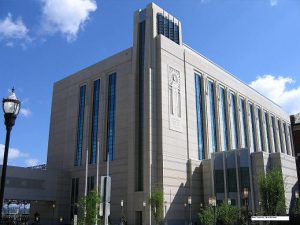 History of Metropolitan General Sessions Court
of Nashville-Davidson County
The General Sessions Courts were organized in 1937 to replace the courts of justices of the peace, culminating a three-year crusade to do so by the Nashville Bar & Library Association. The reorganization expanded previously limited jurisdiction to include all cases of forcible entry and detainer involving the collection of rent and eviction, as well as the recovery of property damages. It also encompassed writ of possession and summons in cases involving notes of up to $10,000 (now $15,000) and misdemeanor cases wherein the defendant waived the right of a jury.
In 1971, voters approved a lower court reform bill consolidating the General Sessions Courts with the Metropolitan Courts, which had three divisions. Cases involving Metropolitan ordinance and traffic violations were incorporated and placed under the blanket jurisdiction of the court.
Phenomenal caseload growth in the past quarter century–especially in the area of criminal offenses–precipitated the creation of two additional divisions of the court, which came into existence in 1998, bringing to eleven the number of elected judges on the court.
Former General Sessions Court Judges – Updated 01/07/2015