---
Saturday Community Service Work Return Docket
Saturday, April 15, 2023
---
Event Time: 8:00 a.m. – 1:00 p.m.
REGISTRATION REQUIRED!
Limited to the first 30 people to register.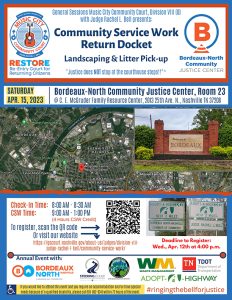 Participants must register by Wednesday, April 12, 2023 at 4:00 p.m.
Out of an abundance of caution amid the COVID19 Pandemic, please adhere to the following CDC (Center for Disease Control) guidelines. All attendees/participants are asked to practice social distancing protocols of working 6 ft. apart, wear face mask/covering, refrain from touching your face, frequently wash your hands and/or use sanitizer, work in short increments and most importantly, if you are sick or have been sick within the last 7-14 days or exhibiting symptoms of COVID19, please stay home as this will help to prevent transfer of any communicable disease.
Please adhere to the following Safety Precautions: Pre-watch the volunteer orientation video (see link below), adhere to safety guidelines regarding closed toe shoes, safety vest, gloves, staying out of the road and keeping eyes opened, and maintain minimum contact with hazardous litter/materials such as broken glass or bottles containing unlabeled fluids/chemicals,
---
---