---
---
Saturday, June 20, 2020- FREEDOM-A-THON in honor of Juneteenth
Expungement & Legal Clinic
Where: ZOOM Meeting ID: 848 4921 3692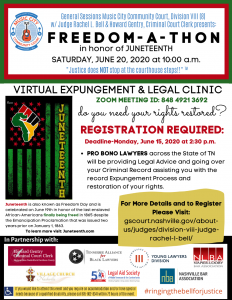 FB LIVE- @musiccitycommunitycourt & @Judge Rachel L. Bell
Time: 10:00 a.m.- 12:30 p.m.
REGISTRATION REQUIRED- Click here to register
Registration Ends on Friday, June 12, 2020 at 2:30 p.m.
Limited to the first 100 people to register.
Please join us as we celebrate Juneteenth with a FREEDOM-A-THON for participants registered with the Music City Community Court- EXPUNGEMENT & LEGAL CLINIC with Judge Rachel L. Bell and Howard Gentry, Criminal Court Clerk for Davidson County, Nashville, TN.
Licensed Lawyers from across the State of TN are volunteering as Pro Bono Attorneys to assist the participants in restoring their rights and providing legal advice.
There will be a presentation about Juneteenth given by Pastor Kelli X and the Village Church, Disciples of Christ. A DJ will be on the ones and twos and several community organizations will be sharing information of available resources for people to tap into.
---
Saturday, May 30, 2020- Expungement Clinic & Resource Fair Informational and Panel Discussion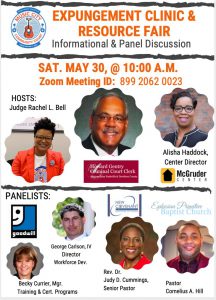 Where: Zoom Meeting ID: 899 2062 0023 and FB Live @Judge Rachel L. Bell
Join us for an Informational & Panel Discussion about how the Music City Community Court and the Criminal Court Clerk's Office will work to host Expungement Clinics and Resource Fairs amid COVID19 social distancing requirements.
Hear from our Community Partners at the McGruder Family Resource Center, the Goodwill and our Spiritual Partners from New Covenant Christian Church and Ephesians Primitive Baptist Church.
---
-Cancelled Due to the TORNADO & COVID19-
Saturday, March 21, 2020 – Expungement Clinic, Indigency Docket, and Resource Fair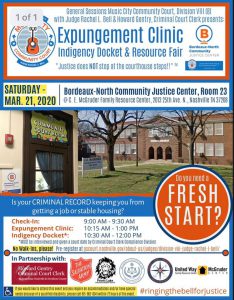 Address: 2013 25th Ave. North, Nashville, TN 37208
Time: 9:00 AM Check-In
Registration Required – Click here to register
---
2020 Schedule for Saturday Expungement Clinics, Indigency Dockets, Community Service Work Return Dockets, and Resource Fairs
---